K-12 Online Education In Canada
Education is always important. It goes without saying that passing on the knowledge generation by generation is a duty for any qualified human-being for the sake of continuing our civilization. But how much education is enough? The best sounding answer is probably 'never'. K-12, "a term used in education and educational technology in the United States, Canada, and possibly other countries, is a short form for the publicly-supported school grades prior to college. These grades are kindergarten (K) and the 1st through the 12th grade (1-12)" (WhatIs) [1], is usually what people expect you to have as basic education. The higher the better. Whether or not if one should pursue a post-secondary, meaning anything after K-12 is totally a personal choice. Therefore, an efficient and well-designed K-12 system is extremely important to the society.
As the modern technology continue to shape our society in every aspect and it is only growing faster and faster, we need to realize the importance of integrating more technologies into the education system to make the best use of technology to help the student to learn more effectively. The change brought by the technology is so tremendous that while we enjoy the convenience we also need to stay utterly alert to prevent the potential damage caused by the misuse of technology. In this research paper I will present you the current state of K-12 online education in Canada and what we could do potentially enhance the field and prevent the negative affect it might cause to our society.
Here is a definition of K-12 "Under the current policy, the delivery method is considered distributed learning as long as the student is at a distance from the teacher for the "majority of the time," which is not explicitly defined. The current funding model in British Columbia does not differentiate between distributed learning and blended learning or between face-to-face and blended learning. However, there are different funding amounts for face-to-face courses and programs, as compared to distributed learning courses." [2] 
Here we can see that the trend in online education in Canada is steadily increasing.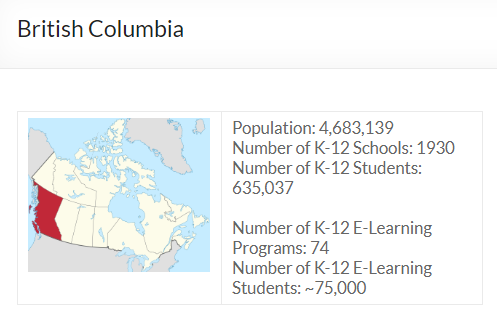 Image1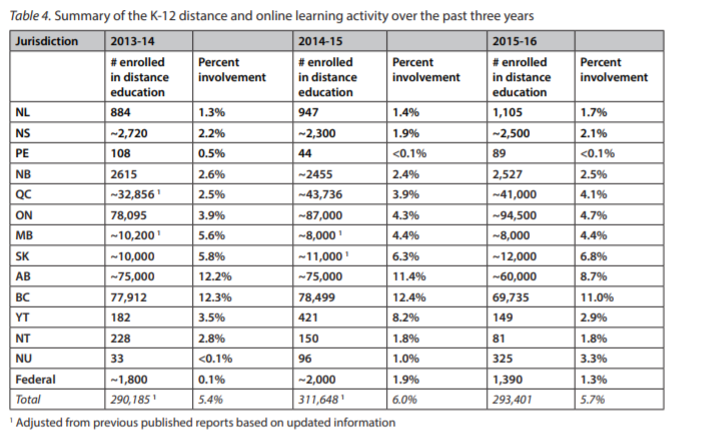 Image2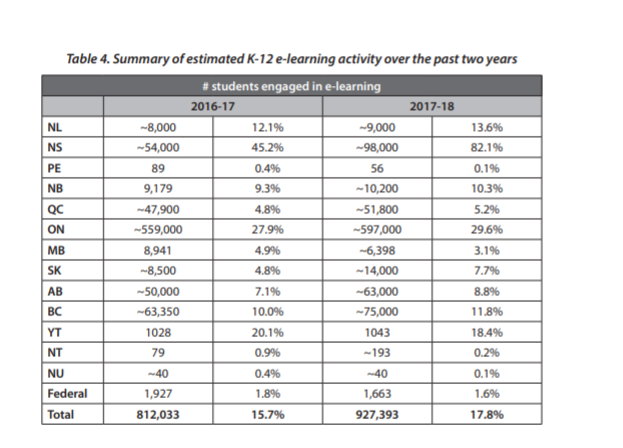 Image 2.2 
Here is an image of the general distribution of K12 across canada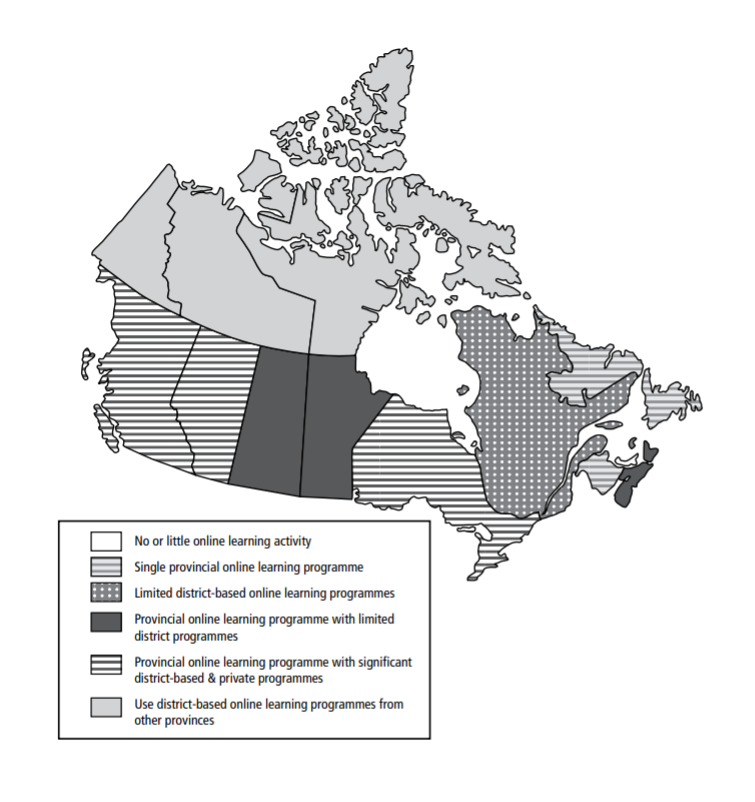 Image 3
There are also some voice online criticizing the online school. According to Consumeraffairs, "I was put into K12 in 8th grade after 7 years of public schooling. It completely ruined me. I became very lonely and depressed which also led me to gaining anger issues." "Please do not attend K12 schooling. My daughter went for a year & she was constantly swamped with work. The teachers barely teach anything. There are always problem with it. The teachers never answer direct questions as well as threatening to kick my daughter out because of missing 1 day." "In home school (K12) isn't the best one to put a child in. It's stressful. The outings are once in a blue moon. My teachers are nice but they get mad quickly if you don't participate. Also you have to be sitting or they will put you in a "zzz" room or they will kick you out. LOTS OF EMAILS. Homework is a lot."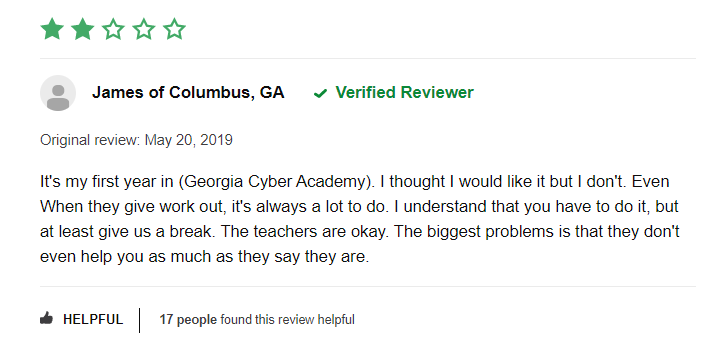 Image 4
It is cheaper to attend online school too "During the 2017-18 school year, the basic allocation school-age equivalent (i.e., FTE) for students attending a brick-and-mortar school was $7,301 (or $-912.62/course), while only $6,100 (or $-762.509/course) for a student attending a distributed learning school." 
Less retention rate for online course " The Research Institute of America have found that this is not the case with eLearning. Rather, online courses have increased student retention rates from anything from 25% to 60%." [3] Less time investment "A Brandon Hall report on eLearning within corporations found that this style of learning typically requires 40-60% less employee time than learning in a traditional classroom setting." [3]Greener too, less energy consumption. "The Open University in Britain have found that online courses equate to an average of 90% less energy and 85% fewer CO2 emissions per student than traditional in person courses."[3]
Online study can cause worsen eyesight, practice less speaking skills.Requires high self-discipline and motivation. Traditional class have face-to-face interaction to help student on task. Though social interaction doesn't happen as often but still happen regularly. However "Online education has failed to reduce costs and improve outcomes for students," according to a new report [4] Online education is the fastest-growing segment of higher education and its growth is overrepresented in the for-profit sector; Faculty and academic leaders, employers and the general public are skeptical about the quality and value of online education, which they view as inferior to face-to-face education;
Students in online education, particularly underprepared and disadvantaged students, underperform and on average experience poor outcomes;Online education has failed to improve affordability, frequently costs more than in-person alternatives and does not produce a positive return on investment;Regular and substantive student-instructor interactivity is a key determinant of quality in online education, leading to improved student satisfaction, learning and outcomes.[4]
Also while having your personal information online, you are more prone to to online scams and frauds. While using phones and laptops, you are easily distracted by other entertainments like social media and games.   
The sense of community created by bricks and mortar schools can hardly be replaced by online school. It is an important step for young people to meet other same-age people learn how to be social.  You will definitely make more friends going to a traditional school. You can attend all sorts of clubs and parties organized by real school. It is such a big part of life, at least for the past thousands of years people go to school as part of life. Students need to experience different places and learn to live independently.  
For some it could be more convenient for them or their only option is to choose online school. People with disabilities etc. 
Also there is another reason for brick and mortar school to exist and not disappear soon is that the school usually bring up the local economy. They will continue to be there for quite a while. Replacing them with online school will destroy the local economy. 
In the future there could be more technology when online courses can be more similar to conventional school for example augmented reality through which people can see the teacher and classmates pretty much in person, therefore creating a real world like class.  
https://www.capterra.com/p/111592/K-12-Online/#reviews
https://www.consumeraffairs.com/education/k12-inc.html?#sort=top_reviews&filter=none
Reference
[1] WhatIs, https://whatis.techtarget.com/definition/K-12, 2019
[3]https://www.dexway.com/5-reasons-why-online-learning-is-more-effective/
[4]https://www.insidehighered.com/digital-learning/article/2019/01/16/online-learning-fails-deliver-finds-report-aimed-discouraging